State Senator Guy Reschenthaler (R-37) joined legislators, law enforcement officials and victim advocates today at a State Capitol rally to support legislation aimed at protecting and expanding the rights of victims of violent crime.
Reschenthaler called on the Legislature to pass Senate Bill 1011, also known as Marsy's Law, which would establish a crime victims' bill of rights in the Pennsylvania Constitution. A companion bill sponsored by Representative Sheryl Delozier has been introduced in the House.
Following the rally, the Senate Judiciary Committee, which Reschenthaler serves on, passed the bill and sent it to the full Senate for consideration.
While many states, including Pennsylvania, have laws designed to assist victims in the judicial system, Reschenthaler said there are no provisions in those statutes to ensure compliance.
"Pennsylvania already has a strong history of protecting victims of crime, but with this legislation we are starting the process of putting the rights of victims on a level playing field with the rights of the accused," Reschenthaler said. "We need to ensure that crime victims are treated with respect and dignity by the criminal justice system. This proposal protects and strengthens their rights with a constitutional guarantee."
Marsy's Law stipulates that crime victims will have the constitutional right to:
Notice of hearings and other proceedings.
Protection from the accused, notice of release or escape.
Full and timely restitution, proceedings free from delays and with prompt conclusion.
The ability to confer with the government's attorney and information on all of these rights.
To date, six states have passed such a strengthened constitutional amendment, including California, Illinois, North Dakota, South Dakota, Montana and Ohio, and efforts are underway in 10 other states, including Pennsylvania.
Marsy's Law is named for Marsy Nichols, a college student in California who was shot and killed by her ex-boyfriend in 1983. Her parents started their crusade for more rights for victims and survivors of crimes and their families
Guy Reschenthaler, R-Jefferson Hills, is a member of the Pennsylvania State Senate representing parts of western Allegheny County and eastern Washington County.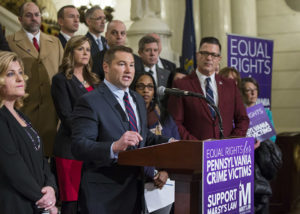 CONTACT Aaron Bonnaure, 717-787-5839abonnaure@pasen.gov